Your Car Breaks Down and You're Stranded — Now What?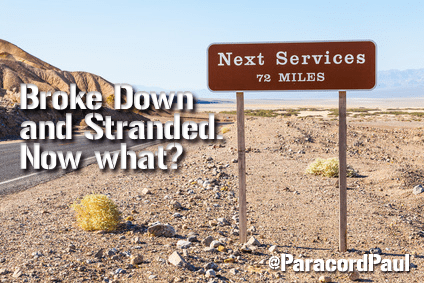 Say you find yourself in a remote area and discover your car won't start, has a flat, and you have no spare or just won't run for one reason or another. The nearest thing to civilization is miles away. You have no cell phone service — no bars. You don't have OnStar, and no other human life is around.
This is a pretty prevalent scenario in movies — prevalent in the B horror movies Judi loves to watch. The characters never know what to do once they discover their cell phones aren't going to be of any help. They walk around trying to get a signal — that's the extent of their plan.
Judi's response to my comments about the characters not knowing what to do was, "it's just a movie," because that's not how we would react if in the same situation. That then started a conversation about some things they could use their car for until they got found. And this article was born. So, what can you do?

These are just a few things that I jotted down off the top of my head that you could consider if you are stranded in the middle of nowhere. Of course, having your car preparedness kit can make that experience a whole lot less stressful.