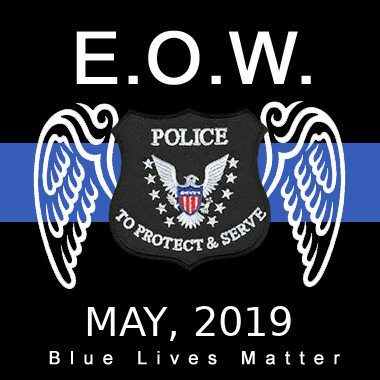 We update this post each month with EOW information from the month before as a reminder and tribute to those who commit their lives to something greater than oneself — our communities. Let's keep them and their families in our prayers.

END OF WATCH:
6 Law Enforcement Patriots in the month of April, 2019
Detective Benjamin J. Campbell
Maine State Police, ME
EOW: Wednesday, April 3, 2019
Cause: Accidental
Deputy Sheriff II Spencer Allen Englett
Forsyth County Sheriff's Office, GA
EOW: Thursday, April 4, 2019
Cause: Duty related illness
Sergeant Steven L. Licon
California Highway Patrol, CA
EOW: Saturday, April 6, 2019
Cause: Struck by vehicle
Deputy Sheriff Justin Richard DeRosier
Cowlitz County Sheriff's Office, WA
EOW: Sunday, April 14, 2019
Cause: Gunfire
Police Officer Kyle Olinger
Montgomery County Police Department, MD
EOW: Thursday, April 18, 2019
Cause: Gunfire
Conservation Officer Eugene Wynn, Jr.
Minnesota Department of Natural Resources – Enforcement Division, MN
EOW: Friday, April 19, 2019
Cause: Drowned
END OF WATCH: No K9s in the month of April, 2019 🙂

Visit the Officer Down Memorial Page
What is the History of The Thin Blue Line?

Law Enforcement or LEOs as we fondly refer to our community heroes have been in the news quite a bit as of late. What I found most disturbing is the lack of understanding in regard to what these guys and gals do to protect our communities.
If you listened to the LSM (lame-stream media) you would think all law enforcement was similar to the Nazi Gestapo. And the low information "citizens" jump on the bandwagon… Wonder how these folks would react if they called 911 and no one responded?
The Thin Blue Line Symbol

The Thin Blue Line is a symbol used by law enforcement in the United States and Canada to commemorate fallen officers and to symbolize the relationship of the police in the community as the protectors of the citizenry from the criminal element.

Each stripe on the emblem represents certain respective figures: the blue center line represents law enforcement, the top black stripe represents the public whilst the bottom represents the criminals. The idea behind the graphic is that law enforcement (the blue line) is what stands between the violence and victimization by criminals of the would-be victims of crime. ~ Wikipedia
Some facts from the National Law Enforcement Officers Memorial Fund (Stop by and make a donation.):
There are more than 900,000 sworn law enforcement officers now serving in the United States, which is the highest figure ever. About 12 percent of those are female.
Crime fighting has taken its toll. Since the first recorded police death in 1786, there have been over 21,000 law enforcement officers killed in the line of duty.
Currently, there are 21,910 names engraved on the walls of the National Law Enforcement Officers Memorial.
A total of 1,582 law enforcement officers died in the line of duty during the past 10 years, an average of one death every 55 hours or 158 per year. There were 158 law enforcement officers killed in the line of duty in 2018.
According to the FBI's Uniform Crime Report 2017 LEOKA report:
There have been 60,211 assaults against law enforcement officers in 2017, resulting in 17,476 injuries.
The 1920s were the deadliest decade in law enforcement history, when a total of 2,480 officers died, or an average of almost 248 each year. The deadliest year in law enforcement history was 1930, when 310 officers were killed. That figure dropped dramatically in the 1990s, to an average of 162 per year.
The deadliest day in law enforcement history was September 11, 2001, when 72 officers were killed while responding to the terrorist attacks on America.
New York City Police Department has lost more officers in the line of duty than any other department, with 899 deaths. Texas has lost 1,751 officers, more than any other state. The state with the fewest deaths is Vermont, with 24.
There are 1,166 federal officers listed on the Memorial, as well as 713 correctional officers and 43 military law enforcement officers.
There are 348 female officers listed on the Memorial; eleven female officers were killed in 2018.
We have been trusted with the honor of making many a Thin Blue Line bracelet in memorial to fallen officers (you can view some of these patriots on our Wall of Heroes).
There are bad eggs in any industry, field or occupation. To besmirch the reputation of all LEOs, which has been commonplace as of late, to whip up a frenzy, with false narratives to create a straw man purely for political gain is something certain "leaders" should be ashamed of and be taken to task for. This type of behavior from those whose character should be above groundless accusations and inflammatory statements should not be tolerated by We The People. We deserve better than that.
Just as with our brave Military personnel, next time you see a Law Enforcement Officer, thank them. Let them know you appreciate that they are on call for your community knowing that they are potentially putting their lives at risk each day they that they put on their uniform, with every phone call and traffic stop.
Please share this post so that their heroism is not forgotten… Thank you.
We have an incredible warrior class in this country – people in law enforcement, intelligence – and I thank God every night we have them standing fast to protect us from the tremendous amount of evil that exists in the world. ~ Brad Thor
At *your* service,