Paracord Bracelet, Dog Collar, Lanyards and Gear reviews submitted by satisfied customers of Paracord Paul:
(Would you like to leave a review? Click here!)
I wanted something to show tribute to my Military Police Unit as well as other M.P.'s I came up with this & it turned out better than I expected. I have 4-6 different bracelets, lanyards ect. & they are all from Paracord Paul. The products are not only made as a superior product they are dead on with what you pick. I recommend the steel clasp not only for sizing but also for durability. Paul is the ONLY paracord shop I'll use.
A law enforcement friend recommended paracord Paul. I got the thin blue line bracelet. Fortunately for me the company had me re measure my wrist, I was wrong. I received mine today and its perfectly. Thank Paul. Make everyone re measure. I will send more people your way.
Jim Sanfilippo
PD (Retired)
So happy with my Thin Blue Line Paracord collar for my Giant Schnauzer. Outstanding workmanship and fast delivery. As soon as my new Gordon Setter puppy stops growing, I'll be getting one for him too. Above all that, MADE IN THE USA!
Originally ordered the King Cobra Paracord Bracelet back in 2016. Was stolen last year, so just decided to replace it.
Was very surprised the price increased only $.50 the last 4 years. Thank you for your service sir.
🇺🇲Stay well. Go in peace. JD590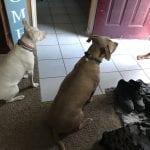 Tito Acevedo
Hazlet New Jersey
Awesome dog collars for our family dogs. That represent our son who is in the US Army Airborne/CBRN