King Cobra vs. Cobra | 275 Cord vs. 550 Paracord: Size Comparison
550 PARACORD KNOT AND CORD SIZE COMPARISONS: Cobra vs. King Cobra
I am asked about the size difference between the King Cobra and standard Cobra knot bracelets. King Cobra bracelets could be called an actual "man bracelet," so let's just say the difference is a lot.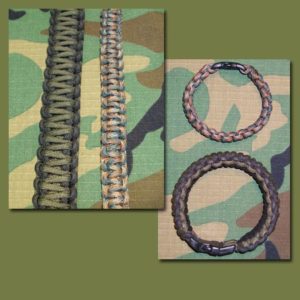 550 Standard Cobra Width: 7/8″ | Approx. 1 foot of cord per inch
Thickness: Approx. 3/8″
550 King Cobra Width: 1 3/8″ | Approx. 2 feet of cord per inch
Comes with our larger 1/2 inch durable contour buckle.
Thickness: Approx. 5/8″
Keep in mind measurements can vary slightly based on cord lots. So that you can see just how much more hefty the King Cobra bracelet is than the regular Cobra knot bracelet, here are photos to get an idea of the difference. View our slideshow below for more comparison photos.
The King Cobra paracord bracelet is approximately twice the size of the standard Cobra knot bracelet. Check it out and ask me any questions you may have before you order to make sure the King Cobra is right for you. This is one weighty paracord bracelet!
Paracord Paul's Exclusive 275 Tactical Cord vs. 550 Paracord
Below are photos of King Cobra and standard Cobra bracelets in both 550 Paracord and my exclusive 275 Tactical Cord so you can see the difference in size and profile.
275 King Cobra Width: Approx. 3/4″ | 275 Standard Cobra: Approx. 1/2″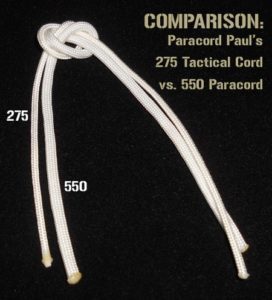 275 Tactical Cord:
This Mil Type 1 style cord has a four-strand core and 16-strand cover delivering a whopping 275-pound test break. We call it 275 Tactical Cord, and it's some tough stuff.
550 Paracord:
My products are made in the U.S.A. with mil-spec MIL-C-5040H type III requirement cord and have a minimum breaking strength of 550 pounds (550 cord). In addition, my paracord comes from the same U.S. factory, a government contractor to supply the military, so quality is assured.