Honoring our Vietnam Veteran Patriots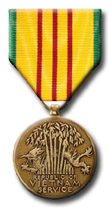 On March 30, 2011, Senator Richard Burr (R-N.C.), Ranking Member of the Senate Committee on Veterans Affairs, introduced a resolution to honor veterans who served in Vietnam by designating March 30 as "Welcome Home Vietnam Veterans Day."
Our soldiers served honorably and bravely in Vietnam. Unfortunately, they arrived home to a country in political turmoil, and never received the recognition they deserve. By setting March 30th aside as a day to focus on our Vietnam veterans, we can show our unified gratitude for their service and the sacrifices that these veterans made on our behalf.
An act of Congress honoring Vietnam veterans with a day of recognition was signed into law by President Trump on March 29, 2017. As a result, March 29 is now designated as National Vietnam War Veterans Day by the Vietnam War Veterans Recognition Act of 2017. In addition, the U.S. flag is to be flown in commemoration of those who served in Vietnam.
For that matter, many are not aware of the meaning of this day or much of the history of the Vietnam War. Did you know…
Vietnam War Facts
The United States became involved in Vietnam because policy-makers believed that if South Vietnam fell to a communist government, communism would spread throughout the rest of Southeast Asia.
The US Armed Forces began serving in an advisory role to the South Vietnamese in 1961, and in 1965, ground combat troops were sent into Vietnam.
9,087,000 military personnel served on active duty during the official Vietnam era from August 5, 1964 to May 7, 1975.
Vietnam Veterans represented 9.7% of their generation.
After many years of combat, all US troops were withdrawn from Vietnam on March 30, 1973, under the terms of the Treaty of Paris.
2,709,918 Americans served in uniform in Vietnam.
More than 58,148 members of the United States Armed Forces lost their lives, 75,000 were severely disabled, 23,214 were 100% disabled, 5,283 lost limbs, 1,081 sustained multiple amputations and more than 300,000 were wounded in Vietnam.
The first man to die in Vietnam was James Davis, in 1961. He was with the 509th Radio Research Station. Davis Station in Saigon was named for him.
Of those killed, average age was 23.1. 61% were younger than 21. 11,465 of those killed were younger than 20 years old. Of those killed, 17,539 were married, 5 were only 16 years old and the oldest killed was 62.
240 men were awarded the Medal of Honor during the Vietnam War.
74% of Vietnam Veterans say they would serve again, even knowing the outcome.
As of September 16, 2019: 1,588 Americans are "unaccounted for" in Southeast Asia:
Reach Out and Thank a Vietnam Vet
Our Vietnam Veteran Service Medal paracord bracelet is on sale from 3/30-31/2020. So why not procure one for a Vietnam Vet, you know, or just wear one in honor of the 58,148 that paid the ultimate sacrifice.
Reach out and thank those who served in Vietnam, many of who never received the heroes welcome they earned.
When the soldiers came home from Vietnam, there were no parades, no celebrations. So they built the Vietnam Memorial for themselves.
~ William Westmoreland
What did you do for your country today?