Each year on March 13th, we pay homage to our K9 Patriots:
79 Years ago.
The Date: March 13, 1942…
U.S. Army launches K-9 Corps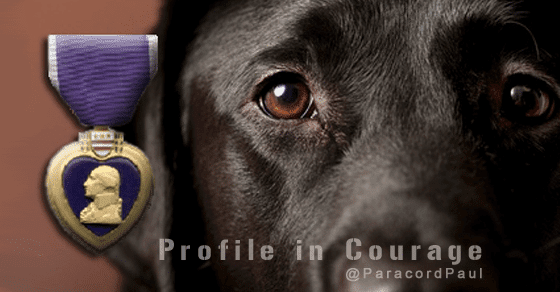 Military War Dogs (MWD) were used by the Egyptians, Greeks, Persians, Sarmatians, Baganda, Alans, Slavs, Britons, and the Romans in military exercises and campaigns. The United States, however, did not make extensive use of K9s prior to 1942.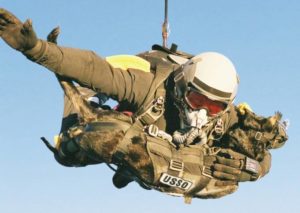 Mid-7th century BC: In the war waged by the Ephesians against Magnesia on the Maeander, the Magnesian horsemen were each accompanied by a war dog and a spear-bearing attendant. The dogs were released first and broke the enemy ranks, followed by an assault of spears, then a cavalry charge.[10] An epitaph records the burial of a Magnesian horseman named Hippaemon with his dog Lethargos, his horse, and his spearman.
525 BC: At the Battle of Pelusium, Cambyses II uses a psychological tactic against the Egyptians, arraying dogs and other animals in the front line to effectively take advantage of the Egyptian religious reverence for animals.
490 BC: At the Battle of Marathon, a dog follows his hoplite master into battle against the Persians and is memorialized in a mural.
480 BC: Xerxes I of Persia is accompanied by vast packs of Indian hounds when he invades Greece. They may have served in the military as well as being used for sport or hunting, but their purpose is unrecorded.
281 BC: Lysimachus is slain during the Battle of Corupedium and his body was discovered preserved on the battlefield and guarded vigilantly by his faithful dog.
231 BC: the Roman consul Marcus Pomponius Matho, leading the Roman legions through the inland of Sardinia, where the inhabitants led guerrilla warfare against the invaders, used "dogs from Italy" to hunt out the natives who tried to hide in the caves.
120 BC: Bituito, king of the Arvernii, attacked a small force of Romans led by the consul Fabius, using just the dogs he had in his army.
1500s: Mastiffs and other large breeds were used extensively by Spanish conquistadors against Native Americans.
1914-1918: Dogs were used by international forces to deliver vital messages. About a million dogs were killed in action. Sergeant Stubby, a Boston bull terrier, was the most decorated war dog of World War I and the only dog to be nominated for rank and then promoted to sergeant through combat. Among other exploits, he is said to have captured a German spy. He was also a mascot at Georgetown University. Rags was another notable World War I dog.
1941-1945: The Soviet Union deployed dogs strapped with explosives against invading German tanks, with limited success.
1943-1945: The United States Marine Corps used dogs, donated by their American owners, in the Pacific theater to help take islands back from Japanese occupying forces. During this period the Doberman Pinscher became the official dog of the USMC; however, all breeds of dogs were eligible to train to be "war dogs of the Pacific". Of the 549 dogs that returned from the war, only 4 could not be returned to civilian life. Many of the dogs went home with their handlers from the war. Chips was the most decorated war dog during World War II.
1966-1973: Approximately 5,000 US war dogs served in the Vietnam War (the US Army did not retain records prior to 1968); about 10,000 US servicemen served as dog-handlers during the war, and the K9 units are estimated to have saved over 10,000 human lives. 232 military working dogs and 295 US servicemen working as dog handlers were killed in action during the war. It is estimated that about 200 Vietnam War dogs survived the war to be assigned at other US bases outside the US. The remaining canines were euthanized or left behind.
Dedicated on June 10, 2006, the United States War Dogs Memorial is located guarding the gateway to the New Jersey Vietnam Veterans Memorial in Holmdel, New Jersey
2011: United States Navy SEALs used a Belgian Malinois military working dog named Cairo in Operation Neptune Spear, in which Osama bin Laden was killed.
2013: A Salute to U.S. Military Working Dogs @ the 2013 Rosebowl Parade
[ For more: Dogs in Warfare Wikipedia ]
Glory Hounds
Filmed in Afghanistan, this special profiles four military dogs and their handlers in the war zone as they locate insurgents and dangerous explosives.
The relationship between a military working dog and a military dog handler is about as close as a man and a dog can become. You see this loyalty, the devotion, unlike any other, and the protectiveness.

Robert Crais
U.S. Soldiers, Military Dogs Train Together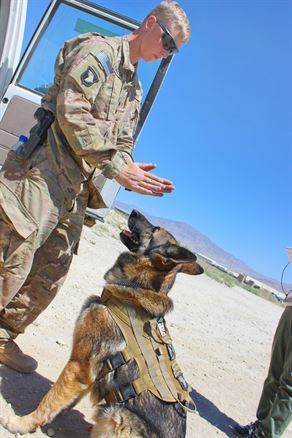 U.S. Army Spc. Craig Holbrook and Niko, a military working dog, conduct obedience training on Tactical Base Gamberi, Afghanistan, June 27, 2015. Holbrook and Niko are assigned to the 101st Airborne Division's 3rd Brigade Combat Team and deployed from the 18th Military Police Brigade in Germany.
K9s trained for military service are trained in bomb, weapon, and drug detection, tracking, and to attack the enemy. On average there are 2,500 in service at any given time; roughly 600-700 deployed overseas. The majority come from Germany and the Netherlands because the bloodlines of these dogs go back hundreds of years, making these pups literally born for the job. [Canines in Combat: Military Working Dogs]
I can't think of anything that brings me closer to tears than when my old dog completely exhausted after a hard day in the field, limps away from her nice spot in front of the fire and comes over to where I'm sitting and puts her head in my lap, a paw over my knee, and closes her eyes, and goes back to sleep. I don't know what I've done to deserve that kind of friend.

Gene Hill
Puppies Assisting Wounded Servicemembers (PAWS) Act of 2016 is now law.
This bill directs the Department of Veterans Affairs (VA), through the Office of Patient Centered Care and Cultural Transformation, to carry out a five-year pilot program under which the VA shall provide service dogs and veterinary health insurance to certain veterans who: (1) served on active duty on or after September 11, 2001; and (2) were diagnosed with, and continue to suffer from, post-traumatic stress disorder.

The provision of a service dog shall be done in addition to other types of treatment for post-traumatic stress disorder and shall not replace established treatment modalities.
Military and Law Enforcement K9 "Retirement"
Until November 2000, military dogs were euthanized or abandoned after retirement. After all they gave, the danger they faced, the lives they saved they were literally discarded. But no more…
Organizations like Save-A-Vet.org and Pets for Patriots now help to rescue military and law enforcement working dogs and other service animals from being put down when their service to country and community is "done with them". Save-A-Vet also serves to provide housing and relief for disabled veterans who help take care of them.
America's VetDogs trains K9s for our wounded warriors and is also an organization worthy of your donations. It costs over $50,000 to breed, raise, train, and place one assistance dog; however, all of VetDogs? services are provided at no charge to the individual. Funding comes from the generosity of individuals, corporations, foundations, businesses, and service and fraternal clubs.
Our Mission: To help those who have served our country honorably live with dignity and independence.

America's VetDogs
Bravery of Law Enforcement K9s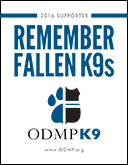 EOW = "End Of Watch". The Officer Down Memorial K9 site is supported by the generous donations of its visitors and law enforcement organizations. You can get your "Remember Fallen K9s" decal and find out more about ODMP K9 here.
The dog is the only animal that has seen his god.

Unknown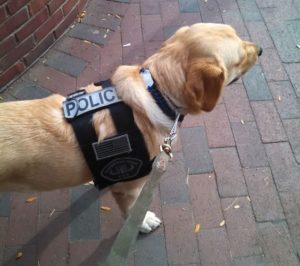 Working K9s
Working K9s, just like their handlers, face danger and risks when they are on duty. There are many organizations who have made it their missions to help with the very expensive protective equipment that could save their lives.
One such group is Vested Interest in K9s, Inc. VI is a 501c(3) non-profit whose mission is to provide bullet and stab protective vests and other assistance to dogs of Law Enforcement and related agencies throughout the country. Find out how you can help here.
Another group Project Paws Alive's mission is: "To provide K9 stab & bulletproof vests and other vital K9 protective equipment to underfunded Law Enforcement, Fire, Search and Rescue, and Military K9 units nationwide." Click here to help.
The Difference a K9 Can Make
When all is said and done, I've been told that a fully trained K9 can be worth up to $150,000 — but to their handlers they are priceless.
If there are no dogs in Heaven, then when I die I want to go where they went.

Will Rogers