10.15.21: USPS is in perpetual gridlock even stating
services will take longer this holiday season.
Order early for this Christmas season.
If you are on the hunt for unique gifts that are hand-crafted to order and made right here in the good ole U.S.A., we can help you with that! Bookmark this page so that when you need gifts (throughout the year) that the recipient will know you had made just for them, you are just a click away!
---
TOP SELLING PARACORD
Gift Ideas from Paracord Paul
Customized Paracord Dog Tag Bracelets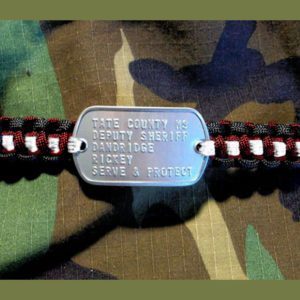 If you know someone who loves wearing paracord bracelets — this is a look you can customize with up to 3 colors.
With our Paracord Dog Tag Bracelets, you can include your own customized personal message in your choice of two different dog tag colors. After being introduced, this bracelet has remained one of our top sellers. Also great for Medical Alert Bracelets and remembering those who've passed on.
---
Paracord Bracelet For Your Girlfriend
Coin Knot Center Bracelet, Knot, and Loop Closer
The ladies love this bracelet! Probably due to the elegant coin knot center and the lower profile of our 275 cord. You can have all one color, but two colors really show off the knotwork. Chocolate Brown and Tan are shown, but pink and purples are very popular, as is any color with black!
We also offer this design in 550 cord for a more substantial version. Great friendship bracelet too!
---
Paracord Bracelet for Someone Everyone You Love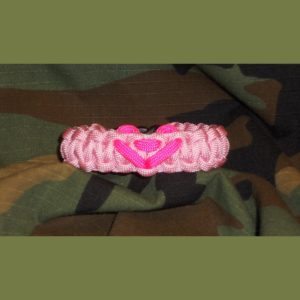 This bracelet is a sentimental and unique way to show that special someone that they are always in your heart! Our Hearts are Wild Paracord Bracelet. Soldiers, airmen, and marines order these bracelets for their loved ones before they deploy as a way of letting them know they leave their hearts with those at home. (Nice in military colors for guys too!)
Families order these for holiday reunions and gatherings as a hand-out so that everyone has their own bracelet. A thoughtful give for anyone who has your heart and to show you care!
---
Paracord Wallet Lanyard For Your Boyfriend
Tactical Paracord Wallet Lanyard:
This lanyard is for a man-wallet. If your boyfriend is a biker or construction worker, who needs a wallet lanyard that doesn't give up — this is it! Our tactical 550 wallet lanyard is made from one 37 foot continuous piece of 550 cord. Available in two lengths: 21″ and a shorter 12″.
Our 2-inch carabine is shown. Silent and strong, this wallet "chain" won't make any noise or scratch paint. [Get your man one now!]
---
King Cobra For the Survivalist
The Original Paracord King Cobra Bracelet: If you know a survivalist, camper, hiker, outdoors enthusiast, the King Cobra is the ultimate paracord survival bracelet. This substantial bracelet, nicknamed our "man bracelet," allows you to comfortably wear 16-20 feet of 550 cord depending on your wrist size!
What a great gift idea for anyone who understands how valuable and useful a hunk of paracord can be when you need it!
---
For Military Patriots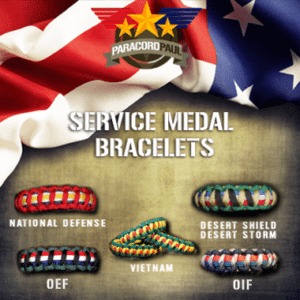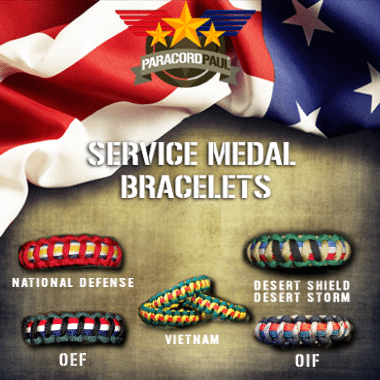 Military Service Medal 550 Paracord Bracelets
From Vietnam to Desert Storm, Operation Iraqi Freedom, Operation Enduring Freedom, and National Defense Service Medal Bracelet, we have a bracelet to mark the bravery and sacrifice of those who have served.
There is no way ever to thank our military folks and their families enough for the commitment to our Nation, the Constitution, and Liberty.
People sleep peaceably in their beds at night only because rough men stand ready to do violence on their behalf.

~ George Orwell
---
For Law Enforcement & K9 Dog Collars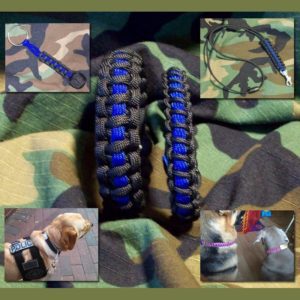 THIN BLUE LINE GEAR
One of our most popular lines this year is our Law Enforcement Thin Blue Line bracelets and gear. In addition, our Thin Blue Line K9 Collar is worn by many working K9s in law enforcement.
We offer a variety of designs and profiles: standard, thinner, elite and K9 collars with or without genuine Military Dog Tags. Additionally, you can customize the tag with five lines of text of your choosing.
For our best friends that protect our homes and give us invaluable companionship, our Ultimate Custom Text K9 Military Dog Tag Collar can be knotted up in the color combination of your choice!
---
Little Gifts = Big Usefulness
Dog Tag Bug-Out Bag Tags, Lanyards, and Paracord Keychains
We have a whole bunch of other items in my shop! If you have any questions, email Judi and she'll help you determine what styles, options, or colors will ensure you get what you are looking for!
Wishing you and yours a safe and Merry Christmas!