Time for Your Annual Winter Storm Checkup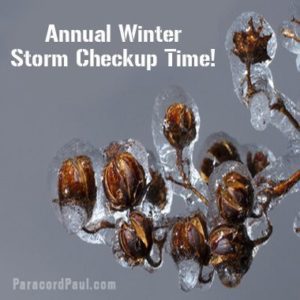 So far, this winter season has been a bit wonky. Lots of rain one minute and then a deep freeze the next.
Winter Storm Prep Before the Storms Hit
We are always thinking of ways to make sure we are prepared for whatever may come along. It seems each year when a bad winter storm hits, there are always quite a few folks who are blindsided by the extreme winter weather, empty grocery shelves, and are stuck at home.
Are you one of those folks? Looks like some winter storms are going to be hitting a good portion of the country in the next week or so. Let's make sure you are not caught off guard again!
Winter Storm Prep List
Here's a list of the considerations so that you and yours are comfortable no matter what Mother Nature sends your way:
Thinking ahead and having the basics you need to be safe and comfortable can make all the difference in the world. It's pretty easy to do, too — create your list and buy a few things every time you shop and store them away. You'll be glad you did!