REMINDER: Prepping Tips for Severe Summer Weather
Your Annual Summer Prepping Reminder!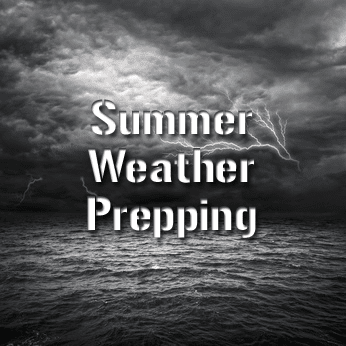 Hurricane season is from June 1 through November 30. Then you have Flash Flooding and, in our case, heat indexes over 100 degrees for the past two weeks. Being prepared matters!
Using Summer Weather as Another Excuse to Discuss Being Prepared!
This led me to think about prepping and that I hadn't posted any "reminders" in a while. So consider this your reminder (or wake-up call). The way "things" are going, regardless of the season — being prepared is essential.
The number of Summer Emergency Alerts got me thinking about what this year's hurricane season may bring. As well as to inventory our stored supplies. When we relocated to Mississippi over a decade ago, Katrina had just hit. The energy and scope of that storm were evident up here in Northern Mississippi. The entire state electrical grid is going down for a whole week. What would you do without power for just one week?
Answer this… Are you Prepared?
You must be prepared, especially if you live in an area prone to these storms. Even if your home is not on the coast, massive systems often cause damage well inland through rain, flooding, and power outages. Where we used to live in Lake County, Illinois, they've had unbelievable flooding in July. When we lived up there, Spring flooding was expected. But not in July! That just proves that Summer weather, in general, can be dangerous, from flooding to extreme temperatures and wild to fires.
Many supplies needed for any survival plan/program/kit can be purchased and stored long before the first warnings. Often at the first hint of a storm, people rush to the stores and empty the shelves. Save money by watching the sale fliers before storm season (or at all times, as Judi does) and getting non-perishable items when discounted. This will ensure your family has the things they need without rushing from store to store at the last minute with everyone else.
Prepping Tips for Summer and Hurricane Season
Here are a handful of prepping tips for summer and hurricane season (which apply to any bad weather, actually) that can be accomplished before that weather radio (You do have a weather radio, don't you?) bleats its first alarm:
One last suggestion… If you haven't invested in a generator — just do it. When the power goes out for an extended period of time you'll be glad you did. Can't tell you how good it feels to power up ours when power is out for extended periods due to severe thunderstorms. Make sure you have an ample supply of gasoline on hand, too, and check/maintain your generator every so often so that it will be ready to fire up when you need it.
Our Military is Always There — and Prepared!
Oftentimes during a natural disaster, there are our military service men and women on hand to assist. Our military is an invaluable asset stateside that is always there when we need them. If you find yourself in a weather emergency where our military jumps in to help, be sure to shake a hand or two and thank them for their help.
It may not happen every year, but sooner or later, we all face hurricanes or severe summer weather (or unexpected disasters). If you haven't yet, start right now to make the necessary preparations to help yourself and your family.
Have a safe and fun Summer!