Why a Paracord 101 eBook? I kept getting asked the same questions repeatedly, and that told me that there was info you wanted to know. I get asked questions about paracord "survival" bracelets all the time, so it just made sense to create a basic resource that folks could download if they were interested in learning about paracord.
What's the story about "Paracord Survival Bracelets"?
How to use them, what to use them for, how to clean them — I even get asked the proper spelling of paracord! Is it a para cord, para-cord, parachord, or parachute cord — basically, folks use pretty much all of the above!
So to help you out, I put together my little Paracord 101 eBook for those just now discovering 550 cord — with some starter preparedness tips too.
If you already knot or are a prepper this eBook is not for you — you know all this stuff already. ~ Paul
What you'll find in my Paracord 101 PDF: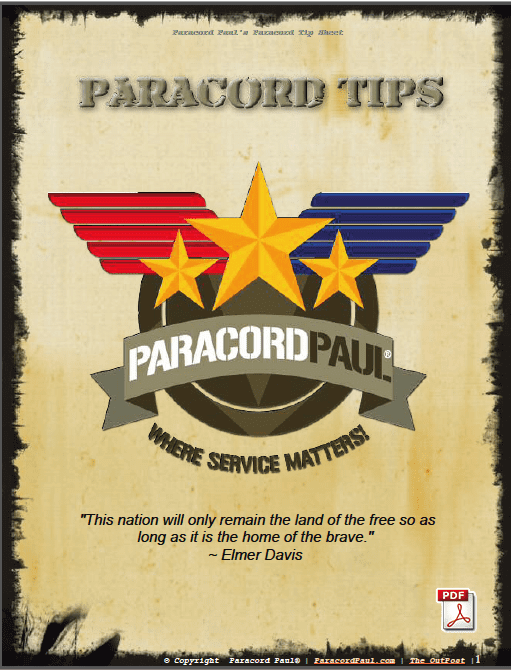 Introduction…
Why a 550 Paracord Bracelet?
What is 275 Tactical Cord?
Cleaning Your Bracelet
Deploying Your Bracelet
Uses for 550 Paracord and 275 tactical Cord
Setting Up a Bug Out Bag

Water and Hydration:
Heat, Light, and Signaling for Help:
Temporary Shelter:
Direction Finding:
Knives and Tools:
General:

In Addition to your Bug Out Bag, think about…

Items to have for Barter
Online Resources

Wall of Heroes
In Closing…