The U.S. Civil Air Patrol: A Military Support Group with a Flair for Disaster Preparedness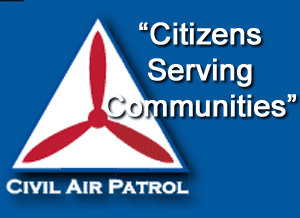 Many Americans have never heard of the Civil Air Patrol. But, if you are one of them, here is a quick CAP 101!
The Civil Air Patrol (CAP) is a federally funded non-profit organization that serves as the official auxiliary of the U.S. Air Force. Dating back to the 1940s, the primary mission of this military support organization is to provide emergency services, including disaster relief and search and rescue by ground and air. Civil Air Patrol is also responsible for aerospace education and cadet programs that include awards and promotions for its youth volunteers.
Our Youth is Our Future
Youths between 12 and 18 may join the Civil Air Patrol as cadet members. They are supervised by a team of senior members, adult volunteers who undergo a background screening before being accepted. All cadets begin with the rank of Airman Basic and undergo a series of leadership, aerospace, physical fitness, and drill and ceremonies testing to progress through the ranks. Upon reaching 18, individuals may elect to become senior members or remain as a cadet until their 21st birthday.
The primary function of the Civil Air Patrol is inland search and rescue. CAP provides over 85 percent of all federal search and rescue missions conducted from Tyndall Air Force Base in Florida. They also partner with Joint Rescue Coordination centers in Puerto Rico, Hawaii, and Alaska.
In providing disaster relief, the Civil Air Patrol partners with other organizations such as the American Red Cross, the Federal Aviation Administration (FAA), the Federal Emergency Management Agency (FEMA), and the U.S. Coast Guard, to name a few. Among the disasters, this organization responds to are hurricanes, floods, tornadoes, and earthquakes.
The Civil Air Patrol was among the first organizations to respond following the terrorist attacks on the United States on 9/11. In recent years, CAP has been called on in increasingly high numbers to support operations conducted by the Department of Homeland Security, including helping combat drug trafficking. While they assist these organizations, minors are never placed in harm's way to carry out a specific mission.
Join the Civil Air Patrol
There is no upper age limit on joining the Civil Air Patrol. This agency also does not discriminate against those with disabilities, as everyone has something to do regardless of physical limitations. We have even had the honor of senior members in the Civil Air Patrol contacting us to have unique paracord bracelets to show their appreciation to the volunteers working so hard to make their organization a success.
As with any branch of service, we thank the dedicated volunteer Patriots of our Civil Air Patrol for their service!