Prepping Tips: Drying or Dehydrating Food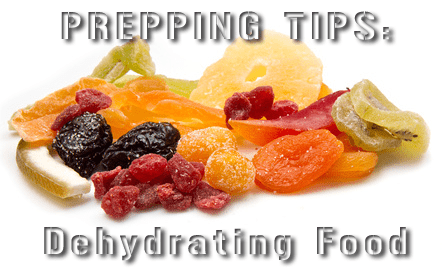 In addition to food preservation methods such as freezing or canning, dehydrating or drying food is a time-tested and natural way to preserve fresh food. Unfortunately, most folks think it is not easy and don't know where or how to start. Below you'll find some recommended resources to help you on your way.
Like Those Before Us
Long before the modern conveniences of freezers or pressure canners, people from early American settlers to military members relied on healthy and nutritious dried foods to supplement their diets. Dried or dehydrated foods have a long shelf life, are easy to store in a small area, and can be carried easily in a backpack or emergency survival kit.
Many believe dried foods' nutritional value is more significant than canned or frozen foods. Various methods can dry foods that do not require expensive equipment, such as canning jars, storage shelves, chest freezers, or pressure or water bath canners.
Dehydrating or drying foods removes the excess moisture in fresh foods that promote bacteria or mold growth. Once foods are dried, keeping them in airtight packaging is vital. A vacuum sealer such as a Food Saver machine (We just got one of these, and it is one trick machine!) is a handy appliance to package dried foods for long-term storage or use while hiking or camping.
Drying is an economical way to preserve fresh produce in season. Vegetables, fruits, beef jerky, herbs, dried soup mixes, or grains are just a few things that can be successfully dried at home.
Recommended Food Preservation Resources
Here are some books recommended by friends who do a lot of this kind of stuff:
A good friend is big into making jerky, and I will also give some of his recipes a whirl.