Gear reviews submitted by satisfied customers of Paracord Paul:
(Would you like to leave a review? Click here!)
My grandfathers tag-
This is the second bracelet I have had made with Paul- the first I gave to my nephew and this one is for me. The custom bracelet for each of the dog tags from WWII is a great way to carry what is so important to me. Fits great and looks great. Keep up the great work!!!!
Great as always!
Received my products quickly and they're just what I asked for as always. Great customer service with a personal touch for a fellow veteran. Always happy to buy from a veteran company and the service and product reflect such, thanks!
Just awesome!!
Paul makes the very best paracord braclets for sale today! You wont find a better one anywhere. I have 9 of his braclets now and will order more from him.
The customer service is a model of how to treat a customer and follow up after the sale is wonderful! Thank you!!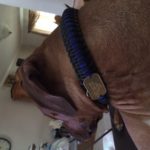 TBL KING COBRA COLLAR
I ordered the thin blue line dog collar with the king cobra knot upgrade. The collar came out awesome. The upgrade is well worth it for a larger dog. My ridgeback is 115lbs and it fits and looks great on him. The best part of my order was the customer service. Judi was very helpful the whole time.
Thanks again Paul and Judi.
Randall Leblanc
Albuquerque New Mexico
Great products and service!
Thanks for the Key Chains Paul. Service was great. My order was processed timely and shipped quickly. My key chains arrived in excellent condition and was exactly what I expected! Thanks again Paul!