Gear reviews submitted by satisfied customers of Paracord Paul:
(Would you like to leave a review? Click here!)

Thin Blue Line Para Braclet
Kudos to Paul,
I wish all companies worked like this well oil machine! I place a L.E. order for two Thin Blue Line bracelets and was amazed at their top quality and the speed at which they arrived at my residence. I think they even beat out Amazon Prime. I can't wait to do business with him again in the future. BUY WITH CONFIDENCE.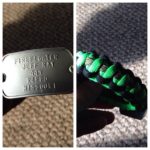 Alexandra Morgan
Durham, MO
Bracelet
I bought the bracelet for my finance and he loves it! I'm so glad my purchase went to a great foundation also! Thank you for your service!
KARIM MAHFOUD
GENEVA - SWITZERLAND
William Worley
Houston, Texas
Product Evaluation
I have purchased a number of bracelets and even a dog collar from Paul. Each item was shipped and received in a timely manner, were in perfect condition when they arrived and were exactly what I had ordered each and every time.
The quality of the products are first rate and by far better than any commercial units I have seen in stores. I highly recommend Paul and his products. I for one am glad I found Paracord Paul. I will be purchasing more in the future as they make GREAT gifts.
Great
Super fast great quality service. Item was made within 2 days and mailed immediately. Thanks!