The Thinner Thin Red Line Elite Tactical Cord Bracelet
$14.25
You wanted a Thinner Red Line bracelet like the Thinner Thin Blue Line Paracord Bracelet — now you've got it! Comes with our durable contour buckle.
This bracelet is about half the size of my standard paracord Elite, very similar in size to those silicon TL bands. It's made from our Military Type 1 accessory cord that we manufacture to our specs here in the U.S.A.
The Type 1 cord is used by Airmen and Soldiers to attach smaller equipment to their packs and vests so it's plenty strong! 16 strand outer sheath; 4 strand inner core with a 275 lb. break strength.
275 and 550 Paracord Colors Shown:
275 Black Edge, 550 Imperial Red Stripe
Made from our Exclusive 275 Tactical Cord! Check out all the available colors and styles in this lower profile Mil Type 1 Cord!
Get the perfect fit for your bracelets by using these instructions. I need to know your wrist size --
not
bracelet size. I've made thousands of bracelets and know how to knot up your order for a comfortable fit. But I need you to take a moment to get the right measurement info to me. Why we need your wrist size? Depending on the knot and clasp, I add the necessary length to your wrist size to ensure your bracelet will fit properly.
Do not add extra space to compensate for a comfortable fit!
First, you'll need a ruler, a pen or pencil, and a strip of paper about a half-inch wide.
Wrap the strip of paper lightly around your wrist.
Mark the piece of paper right where it meets the starting point.
Then measure that length on a ruler. Now you know what size to order!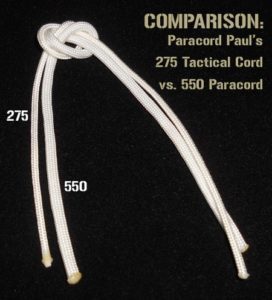 275 Tactical Cord:
We manufacture this Mil Type 1 style cord to our specs with a 4 strand core and 16 strand cover delivering a whopping 275 pound test break. We call it 275 Tactical Cord and it's some tough stuff.
550 Paracord:
All of my products are made in the U.S.A. with mil-spec MIL-C-5040H type III requirement cord and have a minimum breaking strength of 550 pounds (550 cord). My paracord comes from the same U.S. factory that is a government contractor to supply the military, so quality is assured. For a visual slideshow showing bracelets made with each,
click here
.
Remember that each item will be handmade to order based on your specific order details. We are always pretty busy (Paul only has two hands, after all), so most orders are knotted up and ship within 5-7 BUSINESS days -- sometimes sooner. Veteran and LEO orders are given priority and always go to the front of the line.
With that said, USPS is even more inefficient than usual. Plan on extended delivery times once your order is on the way. You will be provided a tracking number so that you can keep an eye on your package as USPS plods along. Be sure to add our email address "support at paracordpaul.com" to your address book so that our emails get through.
Due to the amount of knotting required on
larger orders and dog leashes
, these orders will take more time, so plan on an
additional
7-10 days. If you have a specific in-house date don't hesitate to reach out and
let us know
!