We manufacture our 275 Tactical Cord, a Mil Type 1 Style Cord, to our specs with a 4 strand core and 16 strand cover delivering a whopping 275 pound test break. We call it 275 Tactical Cord and it's some tough stuff!
And, yes — you can buy it in bulk to knot or put a hank or two in your bug-out-bag!


We've got 25 colors of our 275
Tactical Cord for you to choose from!
Exclusively Available from Paracord Paul!
After the success of our "Thinner Elite" bracelets using our black 275 Tactical cord with a 550 Paracord stripe you asked for more colors. And we've delivered!
Our 275 Tactical cord is preferred by those who desire products that are not as bulky as 550 Cord and has a lower profile. We have a bunch of products made with our new cord and you can even buy 275 tactical cord in bulk for your bug out bag or projects.
275 Tactical Bracelets
Here are a couple of our most popular popular 275 TC bracelets:
Our Awareness Bracelet allows you to customize to your cause exactly the way you want it!  You choose the Edge, Center and Two Center Stripe colors.  Then you can even add an Awareness Ribbon in the color of your choice as well.  That's 6 colors in all to customize your bracelet to be that one-of-a kind bracelet with the personal meaning you desire.
Top 3 Sellers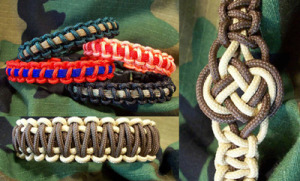 Top left is our Thinner Elite Style which allows you to have two colors of 275 TC accented with a 550 Paracord center stripe. Bottom left is our 275 TC King Cobra. My King Cobra 275 bracelet offers the best of all worlds — not as substantial as a 550 Cord King Cobra but wider than a standard Cobra knot. Choose all one color or two! You can view cord and size comparisons here.
On the right you'll see our most popular Coin Knot Center 275 TC bracelet that has been copied by many "knotters" out there. Our 275 TC gives the bracelet a more feminine weight and appearance. While you can choose to have this bracelet knotted up in all one color — two colors are show off the coin knot best.
100% American Made!