Our Wrist and Neck Lanyards are great for your keys, company badge and other items you want to keep easily available. Neck Lanyards are the same as the Wrist Lanyards but have a much longer "handle" or length of cord to fit over your head and wear around your neck to hold your ID badge.
We also offer an upgrade to include a breakaway clasp for neck lanyards. What this clasp does is if the lanyard gets caught up in anything the lanyard can break away from around your neck.
The Snake Knot is a bit more difficult to tie than the standard Cobra Knot and takes more time to get that even spiral effect that so many like. Customers really like the look of this knot because it is so unique and different!
While one color looks trick — two colors really show off the snake knot! You can have your lanyard in one or two colors, neck or wrist size — your choice!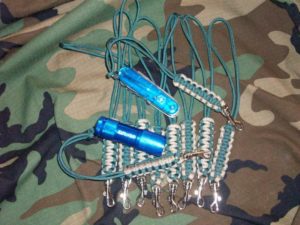 This is the lanyard most think of when looking for paracord lanyards. Great to use for your company ID or security card. This photo shows a bunch of lanyards I knotted up for a very lucky pack of Boy Scouts for their Jamboree.
You can have one color or two! Tons of possible combos!
Why use a lame steel chain to secure your wallet when you can have one of these bad to the bone wallet lanyards! The lanyard is roughly 21 inches long with a carabiner on one end and an adjustable loop on the other.
The loop has a hangman's knot so it can be snugged up to fit your particular wallet. The loop size depends on your wallet, biker style wallets that have grommets only need a small loop but bi-folds like the one shown uses a 4 inch loop.
The lanyard is made from one 37 foot continuous piece of 550 cord. Your choice of 2 or 3 inch carabiner, the 2 inch is shown. Silent and strong, this wallet "chain" won't scratch paint either.

Customers contact us asking about a lanyard they could use for multiple items. That's how the "Double-Dipper" was born!
Our "Double-Dipper" neck lanyard is great for ID badges, cellphones, whistles — use the second clasp for whatever you need to carry around at all times! You can choose 2 colors or just have one! Looks great on the job, for those who are constantly running around or as a unique promo item at your next meeting or event.