This Saturday, May 15th, is Armed Forces Day. So we've decided to start celebrating a little early in honor of those who serve a cause greater than self that allows us to enjoy the freedoms and liberty only to be found in the U.S.A!
For the entire weekend ahead, today through Sunday, bracelets in the Military & Service Medal Category are on sale! Paracord Bracelets in the Military and Service Medals Category are 10% off.
This allows you to show your Military Pride now while planning ahead to honor Memorial Day at the end of the month.
Support The Troops Paracord Charity Bracelets
To show your support, you also have the option to purchase either of our Charity Paracord Bracelets so that $5 of each sale will go to the noted charities.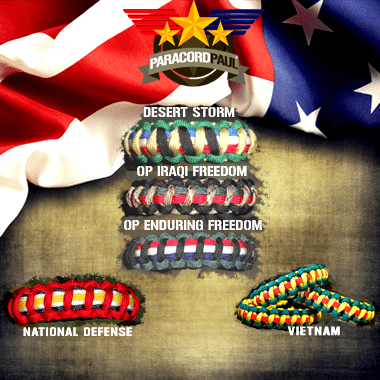 We must never forget why we have, and why we need our military. Our armed forces exist solely to ensure our nation is safe, so that each and every one of us can sleep soundly at night, knowing we have 'guardians at the gate.
– Allen West –
Revisit the history of our Armed Forces
Many forget we still have guys and gals fighting overseas — today. So please make a point of letting them know you appreciate not only their sacrifice but that of their families as well.
To all those who are serving and have served, we offer you our since gratitude! Salute!