What does the Thin Blue Line mean?
The Thin Blue Line is used to reference all police officers. It is meant as a colloquial term to represent that all that separates a society from the criminal element is the "thin blue line" of the police. Within the Law Enforcement Officer Community (LEOs) it also represents the solidarity and brotherhood that police officers share.
If you are looking for quality Thin Blue Line items handmade with mil spec 550 Paracord – we've got you covered! Our exclusive "Thinner" 275 Tactical Cord Blue Line Bracelet, Monkey Fists, Lanyards, K9 Gear including Waist-leads allow you to gear up with style!
Below is a sampling of some of the items you'll find @ The OutPost: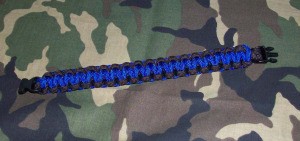 The Thin Blue Line parachute cord bracelet that started it all. Some LEOs didn't want to wear those silicon/rubber bracelets and were looking for an alternative bracelet to show their support. Enter 550 Paracord! This is one of our top selling bracelets to law enforcement officers!

Here's a new twist on our original uber popular Thin Blue Line Bracelet. Copied by "knotters" everywhere!
While the traditional original Thin Blue Line bracelet remains popular, we thought we would make a Thin Blue Line bracelet that really had a "thin blue line" — introducing our "Elite" series. Add it to your collection!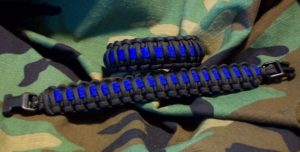 If there ever was a LEO survival "man bracelet" this is it! This is a bracelet that really makes a statement. You can view a comparison of the standard Cobra knot and the King Cobra bracelet here.
My King Cobra Thin Blue Line "Elite" is twice the width of my standard cobra knot Thin Blue Line bracelet. This is a substantial bracelet and contains 16-20 feet of cord depending on your wrist size! Just be sure to give me an accurate wrist size measurement when you order so I can ensure a comfortable fit.
Now you can have a Thin Blue Line Elite Military Dog Tag Bracelet with customized text! Our Genuine GI Issue Stainless Steel Dog Tags Made in the USA. Or, you can choose High Polished Aluminum or Brass made from spent shell casings — your choice. The real deal here folks! You can have 5 lines of text with a maximum of 15 characters on each line (INCLUDING spaces and punctuation) for your own one-of-a-kind Dog Tag Bracelet.
And the cool thing is you can see what your dog tag will look like before you order with our dog tag rendering application.
This style dog tag bracelet is also available in hundreds of color combos. You choose the 550 cord colors, tag color and text and make it your own — then I'll make it for you!
Our K9 partners deserve the best, right? My Thin Blue Line "Elite" dog collar is a cobra knot with our Trick High Polished Aluminum Buckle — this is one incredibly strong collar! For quality and strength purposes, we no longer offer the plastic buckles for our dog collars.
A Thin Blue Line is added for working K9s to display their colors proudly (or for those best friends whose owners are in law enforcement). Measure your dogs neck size the same as you would your wrist using these instructions.!

Take it up a notch and add a custom text dog tag to your TLB dog collar! You can choose from genuine GI Satin, High Polished Aluminum or Brass made from spent shell casings for your dog tag. The best part is you can "see" what your dog tag will look like before you purchase with our dog tag rendering application. Every LEO K9 should be strutting their stuff wearing one of these collars!
(Yes, we do these colors in every color combo under the sun for those non-working best friends!)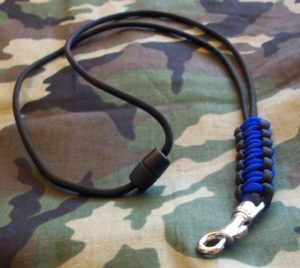 Our "Thin Blue Line" neck lanyard is great for ID badges and whistles. It has a safety breakaway clasp. In the event you get hung up on something or someone grabs you by the lanyard it releases from around your neck. So we have your safety covered!
Looks great on the job, at your next meeting or event (and this neck lanyard goes great with our other Thin Blue line accessories).

One for the keys in the ignition; another for your second set in your pocket. This item is also a much appreciated gift for those in law enforcement or if you just want to show your support for a loved one in this honorable field. Center loaded with a 3/4″ chrome steel ball, my Thin Blue Line Monkey Fist Keychain is about a 1 1/4 inch in diameter. This 550 para-cord key chain is a great addition to your collection of Thin Blue Line Gear!