King Cobra Paracord Dog Tag Bracelet
$31.95
Now you can design your own 3 color King Cobra paracord Military Dog Tag Survival Bracelet. Just choose your edge, center and stripe colors after you fill in your custom text. The color options are endless! Great for guys who want to make a statement!
Create a tag with a Bible verse, a special quote, saying that means something only to you or your loved one — whatever you like! The King Cobra is a substantial bracelet! Bracelet comes with our larger 1/2 inch durable contour buckle.
Paracord Colors Shown:
Black|Edge, Black|Center, Electric Blue|Stripe.
Get the perfect fit for your bracelets by using these instructions. I need to know your wrist size --
not
bracelet size. I've made thousands of bracelets and know how to knot up your order for a comfortable fit. But I need you to take a moment to get the right measurement info to me. Why we need your wrist size? Depending on the knot and clasp, I add the necessary length to your wrist size to ensure your bracelet will fit properly.
Do not add extra space to compensate for a comfortable fit!
First, you'll need a ruler, a pen or pencil, and a strip of paper about a half-inch wide.
Wrap the strip of paper lightly around your wrist.
Mark the piece of paper right where it meets the starting point.
Then measure that length on a ruler. Now you know what size to order!
The King Cobra is a substantial knot -- and not for everyone! Check out the photos above and the
full comparison here
.
The King Cobra is one hefty paracord bracelet or K9 Collar!
King Cobra:
Approx. Width: 1 3/8" Approx. 2 feet of cord/inch Thickness: Approx. 5/8"
Standard Cobra:
Approx. Width: 7/8" Approx. 1 foot of cord/inch Thickness: Approx. 3/8"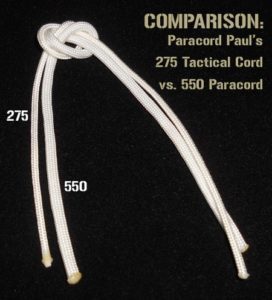 275 Tactical Cord:
We manufacture this Mil Type 1 style cord to our specs with a 4 strand core and 16 strand cover delivering a whopping 275 pound test break. We call it 275 Tactical Cord and it's some tough stuff.
550 Paracord:
All of my products are made in the U.S.A. with mil-spec MIL-C-5040H type III requirement cord and have a minimum breaking strength of 550 pounds (550 cord). My paracord comes from the same U.S. factory that is a government contractor to supply the military, so quality is assured. For a visual slideshow showing bracelets made with each,
click here
.