What is the difference between 275 and 550 Paracord?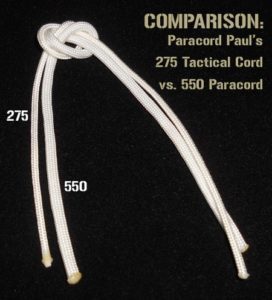 275 Tactical Cord:
We manufacture this Mil Type 1 style cord to our specs with a 4 strand core and 16 strand cover delivering a whopping 275 pound test break. We call it 275 Tactical Cord and it's some tough stuff.
550 Paracord:
All of my products are made in the U.S.A. with mil-spec MIL-C-5040H type III requirement cord and have a minimum breaking strength of 550 pounds (550 cord). My paracord comes from the same U.S. factory that is a government contractor to supply the military, so quality is assured.
For a visual slideshow showing bracelets made with each, click here.