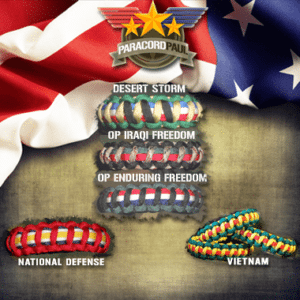 As an Air Force Veteran I get contacted first with questions about how to make a certain knot or bracelet, which then leads to what I think about joining the Military and if I have any advice.
From what I can tell there are plenty high school age young adults who are chaffing at the bit just to get out of school. Some thinking of ditching out early to join the Armed Forces. I can understand wanting to get out of boring high school — I was one of those kids. Those of us who joined right out of school and wanted Military Service as their chosen profession know the pride and honor that wearing our Country's uniform brings.
I can't blame a young person for wanting to get on with life and leave high school. However, here is my primary point of advice…
Dropouts are not welcome…
Each branch of the Armed Services wants new recruits who have a high school diploma. Yes, there is limited room for those who have completed a GED (high-school equivalence) exam, but each branch accepts only a limited percentage of enlistees in that category. Also, enlistees who do not have a diploma need to score higher on the AFQT portion of the ASVAB test battery. Anyone serious about joining the Military would be wise to graduate first!
So what are these "test batteries"?
The ASVAB and AFQT scores:
ASVAB stands for Armed Forces Vocational Aptitude Battery. Everyone enlisting in the military takes the ASVAB. The ASVAB is a group of aptitude exams measuring verbal, mathematical, mechanical and scientific aptitudes. The ASVAB subtests are designed for high school graduates, and each branch uses one or a combination of more than one of those scores to decide whether an enlistee can be expected to succeed in a particular occupational specialty.
AFQT is the abbreviation for Armed Forces Qualification Test. The AFQT percentile score comes from the enlistee's scores on the verbal and arithmetic reasoning portions of the ASVAB. Each branch decides what minimum AFQT percentile score is required for someone to enlist. You'll want to check with a recruiter for the current minimum required, but the point for non-high school graduates is that they typically must score higher on the AFQT portion than their graduate contemporaries.
Bottom-line advice?
Our all-volunteer Armed Forces need people who have the education that comes with a high school diploma. Tell that eager youngster to stick with it and graduate. If you are that eager youngster — you're almost there — use the time left in high school to do some advance studying for the ASVAB. (Here's a link to the ASVAB resources on Amazon.) ASVAB scores are absolutely crucial in determining an enlistee's future specialty training and promotions.
When that once bored high school student graduates, tests and enlists for a future career of pride and honor, we've lost count of the parents who have come to us for a thoughtful gift or token of encouragement for that new enlistee and future Patriot. And we are honored to share in their pride!
At *your* service,