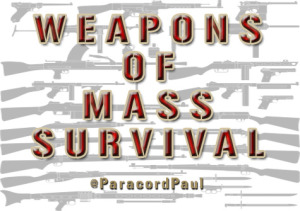 With Weapons of Mass Destruction being talked about quite a bit in the news, let's focus on something a little closer to home, shall we? Weapons of Mass Survival!
When you think about it, survival is only possible if you can protect yourself from threats. You also have to think about feeding yourself, so some of these weapons are used as a dual purpose type of survival gear. Let's get started:
A pistol is something that everyone should have. In a survival scenario, it is best to have a pistol chambered in a round that is very common. 9 mm rounds may not have the best stopping power, but they are intimidating and can stop someone dead in their tracks. It is arguable that 9 mm is the most common pistol round made. This makes it ideal when you need to survive because they are more readily available.
A pellet gun (not a BB gun) is one of those multi-function weapons that are handy. Ideally, you wouldn't want to defend yourself with one, but you could as a last resort. A high powered pellet gun could also be used to hunt small game when you get hungry. Opt for a rifle-style pellet gun for accuracy. These are also great for plinking and target practice. Plus, they are quiet which is great for survival purposes.
A shotgun is a no-brainer. When you have to defend your home or put food on the table, you can?t go wrong with a common 12 gauge. Did you know, however, that shotguns can also be deadly accurate with a slug at distances pushing 100 yards? Of course, you?ll need some sort of optics mounted on top, but this all-purpose gun could save your life many times over.
A high powered rifle is also a good choice for survival. When you have to hit a target that is pushing 500 or more yards, this is a great option. Once again, go with a common sized round like a .223 or a .308. Buy something that holds more than one round at a time. The last thing you want to have to do in a survival situation is to have to stop and re-load.
A knife is one of the most basic tools you can find. They can be used as tools or weapons, which make them something that you should always have on your person. You don?t need anything fancy; and the bigger the knife the harder it is to carry. So, try to keep that in mind when you go to purchase (or make) one.
A bow is also a great choice for self-defense and hunting. This silent killer is perfect for survival situations because they cannot be heard from far distances. Judi talks about Daryl's Horton crossbow on the Walking Dead all the time!
And lastly, the 22 rifle. These very inexpensive guns have one of the highest selling rounds available. There are different types of 22 out there, so do your homework. Once again, good for small game hunting, and even self-defense if you had too.
You don?t have to use all of these. The nice thing is that you can start out small and then work your way up until you have the arsenal that you need. And thanks to the 2nd Amendment you can arm yourself!
Constitution Day, September 17th
Did you know next Tuesday is Constitution Day? Because you are reading this you'll get a heads-up on something I've got in the works! I'm going to put our 2nd Amendment, In Got We Trust and United We Stand Bracelets on sale for the 17th only. For the entire day, 24% Off — only $15.00 each. Mark your calendar and stock up for the Holidays!
The beauty of the Second Amendment is that it will not be needed until they try to take it.
~Thomas Jefferson
At *your* service,