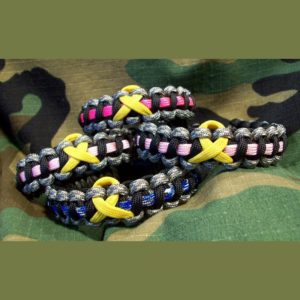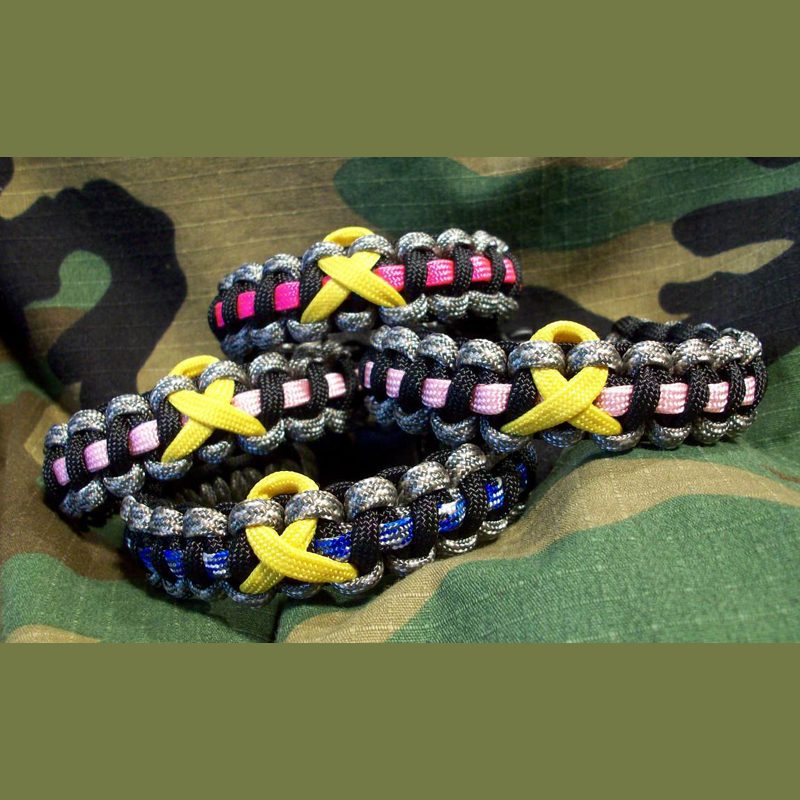 You know how we roll — we take things up a notch! We've been making Yellow Ribbon Support the Troops bracelets on request for some time. Once received our customers let us know they wanted to be able to easily order them for friends and family for the upcoming Holidays. Customers would also e-mail us saying their friends would be ordering some too!
Not only are our Support the Troops Yellow Ribbon Bracelets now in our eStore for you to order 24/7, you can customize yours with 4 different color options!
You get to design your bracelets to have the edge, center and stripe colors that you want to go with your added parachute cord "yellow ribbon". We also are offering all our 550 cord colors for you to choose from for the ribbon color too. This way you can have a bracelet for all the causes you support!
For example you can design "ribbon" bracelets for:
Pink Ribbon Breast Cancer Awareness
White Ribbon for Lung Cancer Awareness
Purple Ribbon for Alzheimer's or Pancreatic Cancer Awareness
Orange Ribbon for Multiple Sclerosis Awareness
Red Ribbon for Heart and Stroke Awareness
Black Ribbon for 9/11 and other Somber Memorials
I've been making my Yellow Ribbon 550 Bracelet for troop deployment families and friends as well as other colors for walks, organizations and clubs for years. Feedback has been terrific and they make meaningful gifts for those who have everything!
At *your* service,