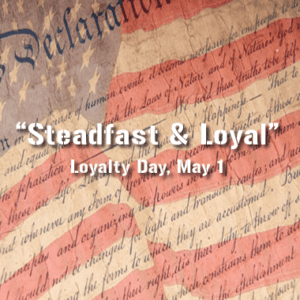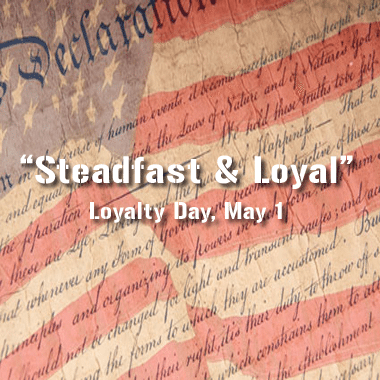 Loyalty Day will be observed on May 1st in the United States. It is a day set aside for the reaffirmation of loyalty to the United States and for the recognition of the heritage of American freedom. (I wonder how many folks will be observing?)
What the Founding Fathers created in the Constitution is the most magnificent government on the face of the Earth, and the reason is this: because it was intended to preserve the American society and the American spirit, not to transform it or destroy it.
~ Mark Levin
Loyalty Day is defined as follows in 36 U.S.C. 115:
(a) Designation. May 1 is Loyalty Day.
(b) Purpose. Loyalty Day is a special day for the reaffirmation of loyalty to the United States and for the recognition of the heritage of American freedom.
(c) Proclamation. The President is requested to issue a proclamation:
calling on United States Government officials to display the flag of the United States on all Government buildings on Loyalty Day; and
inviting the people of the United States to observe Loyalty Day with appropriate ceremonies in schools and other suitable places.
The holiday was first observed in 1921, during the First Red Scare. The First Red Scare was a period during the early 20th-century history of the United States marked by a widespread fear of Bolshevism and anarchism, due to real and imagined events, real events such as the Russian Revolution as well as the publicly stated goal of a worldwide communist revolution. At its height in 1919-1920, concerns over the effects of radical political agitation in American society and the alleged spread of communism and anarchism in the American labor movement fueled a general sense of paranoia.
Is history repeating itself?
While that was so many years ago, it appears this day can still serve its original purpose. Today we not only have a renewed red scare; we have a blue scare too combined with a healthy dose of "political agitation". It seems every day you hear or see that everything traditionally great about the United States of American is under siege.
You can't help but notice that there are more liberties being trampled and even more freedoms jeopardized. All the while "citizens" go about their business taking all of the blessings of our Republic for granted.
The price of apathy is to be ruled by evil men. ~ Plato
Show Your True Colors!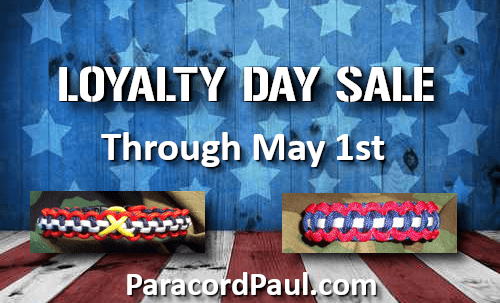 This year for Loyalty Day, we offer our fellow Patriots a way to display their pride and loyalty by putting our Red, White and Blue Old Glory Tactical Cord Bracelet and American Pride Paracord Bracelet on Sale through May 1st.
Loyalty to the nation all the time, loyalty to the government when it deserves it.
~ Mark Twain
Steadfast and Loyal,

(Special thanks to Lieutenant Colonel Allen West, a great Patriot, for letting me borrow his sign-off for this post!)