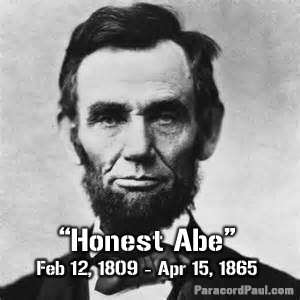 Today is Abraham Lincoln's birthday a.k.a. "Honest Abe" — he lived to the ripe old age of 56 — and this day marks the 150th Anniversary of his death.
How ironic that telling the truth and honesty seem to be something that in the year 2015 is choice — not a requirement.
Why was Abraham Lincoln nicknamed Honest Abe? He was known for uncompromising honesty — he wouldn't have it any other way — regardless of the ramifications. From discovering he overcharged a customer by a few pennies when working at the country store, he closed up shop and walked a long distance to refund the oversight. Another instance where a weight was inadvertently found to be on the scale thereby causing a customer to not get all the tea they paid for, had him packing up the shortfall and delivering the extra tea personally.
"Mr. Lincoln . . . is almost monomaniac on the subject of honesty."
~ Mary Todd Lincoln in a Letter to a Friend
Can you imagine if our current politicians were "monomaniac" when it came to honesty? We would be living in a much stronger, more united and respected nation. Sadly, it appears on some days, politicians are monomaniac about not telling truth.
We are upset that a "newscaster" lied. Why Do We Demand More Integrity from the News Anchor Than the People He Reports On?
Meanwhile, those entrusted with our Republic's safety, security and the preservation of the Bill of Rights and our Constitution, wordsmith the truth and are outright dishonest on a regular basis. There are very few in our .gov that are willing to be truthful about our economy, our solvency, our defense…
I believe that part of our Nation's ability to rise above the current lack of character, integrity — and yes, honesty — is to highlight those who were pivotal to our founding and what made America the greatest country on this planet. That is why I take the time to write about our Founding and History. You can't know what you are not taught. You cannot appreciate where you are if you don't know how you got there.
Being history is no longer taught in government schools, it is critical that each of us do our best to help those who have not been taught — the truth — to become enlightened.
Here are just a few resources on Abraham Lincoln for you to read, learn and share:
Happy Birthday Mr. Lincoln! May your legacy continue to be an example of a patriot with the integrity and character we should expect — and deserve — from all those who serve We The People.
At *your* service,

Read More articles about our Founders and History.