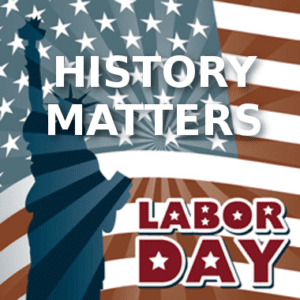 A little history for you before we go into this last long weekend of the Summer
…and a sale too!
Observed on the first Monday in September, Labor Day pays tribute to the contributions and achievements of American workers. It was created by the labor movement in the late 19th century and became a federal holiday in 1894. Labor Day also symbolizes the end of summer for many Americans, and is celebrated with parties, parades and athletic events (The History Channel).
What could be more relaxing than a day of sleeping in, heading to the beach (or the park) for a cookout with the family, and then playing softball on a long afternoon in late summer? To call a day with such a lax agenda "Labor Day" seems ironic unless the roots of the holiday are understood.
According to the U.S. Department of Labor, the holiday was instituted in order to recognize the social and economic achievements of United States workers. (A quickly diminishing species in 2014.)
As to whose idea it was, there is an ongoing debate regarding which famous union leader initiated the first Labor Day: Peter McGuire or Matthew McGuire. Even now, after over one hundred years of celebration, historians cannot agree on which man should get the credit.
But in either event, the first Labor Day was celebrated in 1882, with sporadic celebrations thereafter. It was not until 1909 that a specific day was set aside every year to recognize our nation's workers. From then on, citizens set aside one day per year not only to rest from their labors but also to recognize the hard work and dedication that has made this country great.
A mind always employed is always happy. This is the true secret, the grand recipe, for felicity. ~Thomas Jefferson
Ain't that the truth!
Some Notable American Workers:
Captain John Smith – Technically, he was not an American but a British subject living in Virginia. However, it could be argued that without his arrival, the colony would not have survived. According to The Colonial Williamsburg Foundation, "Smith is credited with almost singlehandedly preserving the first English Virginians from the ravages of their own sloth as well as from the hostility of their native neighbors." For early communal settlers, Smith's insistence that men must work in order to eat was needed to shock them out of lethargy and into the mindset necessary to ensure Virginia's survival.

"Opportunity is missed by most because it is dressed in overalls and looks like work. ~Thomas Edison

Lewis Howard Latimer – The son of former slaves, Latimer is remembered for his work on the light bulb filament and the telephone. From humble roots, he rose to work for both Thomas Edison and Alexander Graham Bell, doing much research and hard work behind the scenes to make these two prominent men even more successful.

I'm a great believer in luck and I find the harder I work, the more I have of it. ~Thomas Jefferson

Henry Ford – Long before he pioneered the assembly line system that would change American industry forever, young Henry Ford already displayed the hard work and initiative that would one day make him famous: he "organized other boys to build rudimentary water wheels and steam engines…. taught himself to fix watches, and used the watches as textbooks to learn the rudiments of machine design. Thus, young Ford demonstrated mechanical ability, a facility for leadership, and a preference for learning by trial-and-error" (The Henry Ford).

If the power to do hard work is not a skill, it's the best possible substitute for it. ~James A. Garfield

Dr. Jonas Salk – Credited with pioneering the polio vaccine, Dr. Salk not only worked for years to refine the technique (using himself and his family members as test subjects) but he also refused to patent the vaccine for profit, choosing instead to make it freely available to everyone.
You! – You work hard. You sacrifice for your family's future. You are willing to do what you need to do to provide the security and way of life only to be found in the greatest Country on this planet — The United States of America!
All of the above had a work ethic that was unrelenting until they reached their goals. That work ethic is evidenced in generations past who built this country and then turned that work ethic towards the war effort when their country called. No complaints about hours, pay, benefits, pensions — there were jobs to be done and that was all that mattered!
I think we have more machinery of government than is necessary, too many parasites living on the labor of the industrious.
~ Thomas Jefferson, Letter to William Ludlow, September 6, 1824
Look at the date of the above quote. Mr. Jefferson most certainly was a wise man. The greatness of our Nation is that to this very day there are strong Americans willing to work hard; like our military for a cause greater than self. What is becoming increasingly clear is we will have challenges ahead — but that has never stop patriots from rising to the occasion and getting the job done!
We know you work hard, so use "IWorkHard" at checkout to get 15% off your order through Monday!
As you celebrate the upcoming Labor Day, be safe, relax and enjoy your friends and family!
At *your* service,