We have it in our power to begin the world over again. ~ Thomas Paine, Common Sense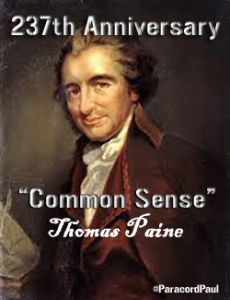 January 10th marks the 237th anniversary of the publication of one of the most influential pamphlets ever published in the American Colonies. "Common Sense," by Thomas Paine, was a 48-page bombshell sold on the streets of colonial cities and towns.
As close to a mass-media propaganda blitz that the slow printing presses and hand-distribution of 1776 could support, the pamphlet sold an astonishing 50,000 copies in just its first year.
Society is produced by our wants, and government by wickedness; the former promotes our happiness positively by uniting our affections, the latter negatively by restraining our vices. The one encourages intercourse, the other creates distinctions. The first is a patron, the last a punisher.
~ Thomas Paine, Common Sense
Our founding fathers and history would owe much to someone who personified the clich? that ?the pen is mightier than the sword.? More of a ?founding step-father? and cut from a far more radical cloth than his revolutionary contemporaries, Thomas Paine's style was somewhat closer to Rush Limbaugh than to Thomas Jefferson.
Paine's medium was the anonymous — and openly seditious — political pamphlet. His 48-page bombshell ?Common Sense,? hit the streets just as revolutionary fever was building in the colonies. Openly disdainful of the British crown, he wrote:
Of more worth is one honest man to society and in the sight of God, than all the crowned ruffians that ever lived.
King George III, who by that time had been truly fed up with his American subjects, must have been quite appalled at those treasonous and disrespectful words. Paine not only disdained the monarchy, but also the ridiculous notion of succession:
No one by birth could have a right to set up his own family in perpetual preference to all others for ever; [also] his descendants might be far too unworthy to inherit [the right to rule].
Not surprisingly, Paine thought it absurd that a small island nation like Great Britain should rule over the destiny of the vast American continent. In fact, it was only common sense that independence "and nothing but independence" was the way to preserve the peace and tranquility of Americans.
To those ends, Paine proposed a plan for American government with representative assemblies and a rotating presidency 'subject to the authority of a Continental Congress.? Thomas Jefferson also paid close attention to Paine's ideas. ?Common Sense? was a philosophical basis of Jefferson's ideas stated so eloquently in our Declaration of Independence.
So no other writer appealed more to the broad spectrum of Americans advocating separation from Great Britain. From the ale-drinking rabble-rousers like Sam Adams to the cerebral thinkers like Sam's cousin John, ?Common Sense? had a dramatic influence and helped both stoke and sustain support for the American cause. Paine, by the way, also put his money where his mouth was. He donated his income from the pamphlet to the Continental Army.
A long habit of not thinking a thing wrong, gives it a superficial appearance of being right, and raises at first a formidable outcry in defense of custom. But the tumult soon subsides. Time makes more converts than reason.
? Thomas Paine, Common Sense
In fact, Paine would continue his inspirational pamphleteering throughout the American Revolution. Later that year in his first of 13 pamphlets known as ?The American Crisis,? he would write:
These are the times that try men's souls. The summer soldier and the sunshine patriot will, in this crisis, shrink from the service of their country; but he that stands by it now, deserves the love and thanks of man and woman.
Which brings us to 2014…
Our citizen-soldier ancestors endured during those times. Their descendants, America's men and women currently serving in our Armed Forces, are faced with serving in hotter, dustier environments far away from home. They are continuing the fight for freedom and liberty against all odds; let's never forget their sacrifices.
I fear we will need them more than ever in the future as it appears we have lost our "Common Sense."
At *your* service,