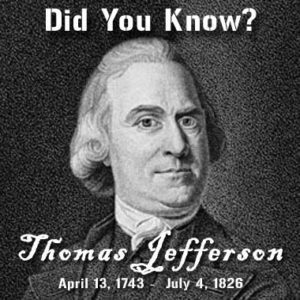 When I trip on historical dates like today I can't help but use them as a teachable moment to write about our Founding Fathers, their foresight and greatness. (And use it as an excuse to offer you a little discount too?)

The one thing we all know is the founding of these great United States and history of our Republic hasn't been taught in our government schools for decades.
Did you know this about Thomas Jefferson?
He was the principal author of the Declaration of Independence.
Serving under President John Adams he was the second Vice President of the United States.
In 1800 he became our third President.
He died on the 4th of July (1826) at the age of 83 on the 50th anniversary of the signing of the Declaration of Independence. Coincidentally, John Adams and fellow signer of the Declaration of Independence, died the same day.
His face appears on the U.S. nickel and is carved into stone at Mount Rushmore.
In 1815, Jefferson sold his 6,700-volume personal library to Congress for $23,950 to replace books lost when the British burned the U.S. Capitol, which housed the Library of Congress, during the War of 1812. Jefferson's books formed the foundation of the rebuilt Library of Congress's collections.
One of the most significant achievements of Jefferson's first administration was the purchase of the Louisiana Territory from France for $15 million in 1803. At more than 820,000 square miles, the acquisition (which included lands extending between the Mississippi River and Rocky Mountains and the Gulf of Mexico to present-day Canada) effectively doubled the size of the United States.
Jefferson chose not to run for a third term in 1808 and was succeeded in office by James Madison (1751-1836), a fellow Virginian and former U.S. Secretary of State.
While Mr. Jefferson was a strong proponent of local and state government and individual liberty, he was a slave owner. You can read the entire history of Thomas Jefferson here.
My Favorite Thomas Jefferson Quotes
Honesty is the first chapter in the book of wisdom.
The tree of liberty must be refreshed from time to time with the blood of patriots and tyrants.
No free man shall ever be debarred the use of arms.
In matters of style, swim with the current; in matters of principle, stand like a rock.
If a nation expects to be ignorant and free, in a state of civilization, it expects what never was and never will be.
Do you want to know who you are? Don't ask. Act! Action will delineate and define you.
The spirit of resistance to government is so valuable on certain occasions that I wish it to be always kept alive.
I hold it, that a little rebellion, now and then, is a good thing, and as necessary in the political world as storms in the physical.
Whenever I take the time to write articles like this about our Founding Fathers, it is stunning how their wisdom and bravery appears to be lacking in our leaders today. Without these fine gentlemen, we would not have become that "shining city on a hill" that folks still flock to to this day.
At *your* service,

P.S. Yeah, I know — a bunch of new subscribers signed up to get knotting tips or parachute cord bracelet tutorials. Being everyone and their brother (and Aunt, Uncle, Cousin twice removed) are writing about ?paracord survival bracelets? ? I?ll leave that to them.
Instead, we?ve chosen to post about American History, Liberty and Freedom, Our Exceptional Military and Preparedness Tips that are useful and informative. We made this decision when we saw how many folks have not been taught about our great Nation's founding, the sacrifice of our Patriot Heroes and how to be self-reliant. I hope you enjoy these articles, learn a few things along the way and share on social media (use the hashtag #history). Because History Matters!