Judi and I would like to take this opportunity to wish you and yours a Happy Thanksgiving! We all have a lot to be thankful for and Thanksgiving Day gives us the opportunity to be reminded of that.
Many have not been taught that our great Country was founded by those who pray. Folks who, regardless of what many would call a hard life, were very thankful for their newly acquired liberty and freedom.
A Special Thanksgiving Message…
Tomorrow on Thanksgiving Day I'll be sending out a very special post. This special post will be a message from our first President setting the stage for Thanksgiving Day in a new Country called the United States of America. Make a note to check your inbox tomorrow so you can print and share this piece of history with your family.
"It is therefore recommended . . . for solemn thanksgiving and praise, that with one heart and one voice the good people may express the grateful feelings of their hearts and consecrate themselves to the service of their divine benefactor . . . ."
~ November 1, 1777 (adopted by the 13 states as the first official Thanksgiving Proclamation) ~ Samuel Adams
With Black Friday, Small Business Saturday and Cyber Monday ahead, as we do each year, we make it easy for you to get a jump on your Holiday shopping! Starting today!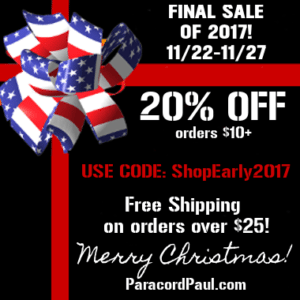 Don't forget that you can request we include our FREE Patriotic Gift Cards that you can fill out and include with your gifts. Just ask in the comments box on checkout!
"Made in the USA" by Paul!
As you know, our items are not generically mass produced — everything is made to order just for you! After this weekend, being all items are hand-made, we wanted to let you know about the following important dates so you can plan accordingly to receive your gift items in time for Christmas.
In time for Christmas recommended order dates:
Ship Via USPS First Class: Place your order by December 15th
Ship Via USPS Priority: Place your order by December 17th
Our Last Sale of the Year
Check out the gift list of our most popular paracord items that I put together. If you have any questions or need any help with your gift list, e-mail us and Judi (I'll be knotting my fingers off!) will get back to you pronto! Thanks as always for your patronage and support!
At *your* service,